Gallery - Sacred Threads 2011
Below is just a small sampling of the wonderful quilts included in Sacred Threads 2011. The photos and artist statements are provided courtesy of the artists. Artists maintain the copyright to the images and text.
---
Joy (Lovebirds3)
©, Phyllis Cullen, Chico, CA
Expressions of Joy
What joy is greater than a newborn? My first grandchild is experiencing the love and pride in her mom and dad's eyes. Fabric collage (all commercial fabrics, lots of tiny pieces act as daubs of paint) and thread painting with colors to enhance, part of my family album series.
---
More Glorious Than Solomon
©, Suzanne Kistler, Visalia, CA
Expressions of Joy
As I was looking at the lilies in my garden, a verse from Matthew popped into my head and would not leave. "...not even Solomon in all his glory clothed himself like one of these." I remember thinking, "More glorious than Solomon..." and captured the image on film. Years later I translated my photo into this quilt. I am fascinated by the magnificence of God's creation. If He put such minute detail and beauty into something so temporary as a flower, does not the realization that He cares even more for us fill you with amazement and joy?
---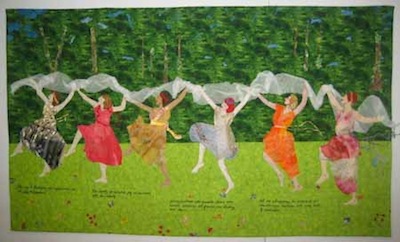 Gotta Dance
©, Susan Walen, Bethesda, MD
Expressions of Joy
The capacity for collective joy is deeply encoded in us. We take pleasure in music, color, feasting, and dance. Let us acknowledge the miracle of our simultaneous existence with some sort of celebration. These concepts, and the inspiration for this quilt, come from "Dancing in the Streets: A History of Collective Joy" by Barbara Ehrenrich.
---
Fandango
©, Rachel Wetzler, St Charles , IL
Expressions of Joy
A painted Italian terracotta plaque circa 4th century BC inspired Fandango. Interpreted in lively colors, the fan shapes prompted the name Fandango meaning "go and dance". Think of the dancing, when at dawn, Mary Magdalene and the other Mary went to look at Christ's tomb. There was a violent earthquake, for an angel of the Lord came down from heaven and, going to the tomb, rolled back the stone and sat on it. The angel said to the women, "He is not here; he has risen." So the women hurried away from the tomb, afraid yet filled with joy.
---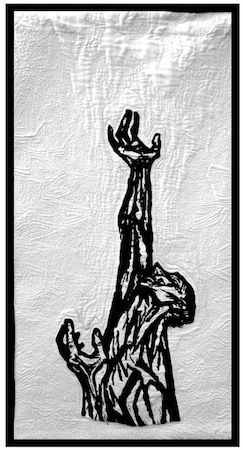 Out of the Depths
©, Catherine Clark, Gallipolis, OH
Expressions of Grief
Created for a community ministry of intercessory prayer. Grief, loss, suffering, fear, deep needs of many kinds, may so afflict us that we feel like we are at the bottom of a pit, helpless and crying out for help. White-on-white background quilting represents unseen spiritual influences. The angular crystalline shapes quilted into the dull white duck cloth represent the anguish that drives our prayers. The flowing cascade quilted into shimmering tulle represents the Holy Spirit that knows our needs and comforts us. Woodcut "Reach" used by permission of the family of Robert O Hodgell.
---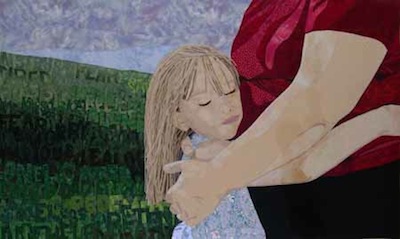 The Last Squeeze
©, Mary Beth Clark, South Elgin, IL
Expressions of Grief
I was eight years old when my mother died unexpectedly. The last precious memory I have of her is sharing a tight hug. I wanted to capture that hug is a quilt design and layer in fabric some of the confusing feelings of loss and pain. Those grieving emotions have faded, but the memory of that squeeze has lasted my lifetime.
---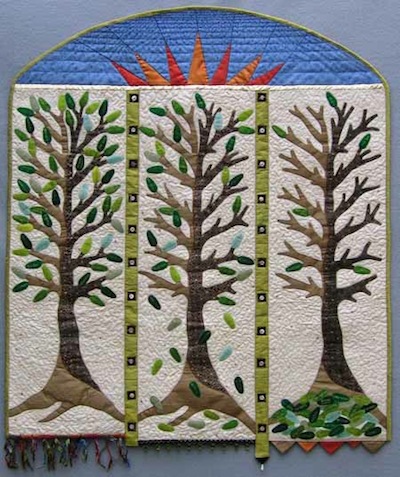 Leaving Us
©, Cheryl Lynch, Broomall, PA
Expressions of Grief
I created this piece as an answer to a call for entries by Ami Simms for an Alzheimer's Quilt challenge, called The Alzheimer's Art Quilt Initiative. My Dad died with Alzheimer's one week after his eightieth birthday. When his doctor had told us he had dementia, we initially chalked it off to old age and senility. Working on this quilt gave me an opportunity to learn about Alzheimer's and come to terms with the death of my Dad. I thought of him with every stitch. The leaves on the trees represent the human attributes that people lose as their disease progresses.
---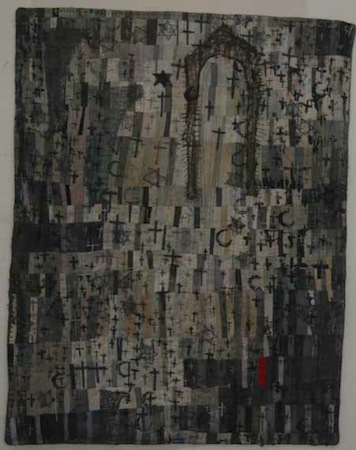 In the Name of the Father
©, Pamela Morris, Nokomis, FL
Expressions of Grief
The need for war and general violence frightens me. These crosses show the end result of this effort. I am a former US Army Nurse Republic of Viet Nam and I am still constantly amazed at the need we people have to hurt others, all "In the Name of the Father"...
---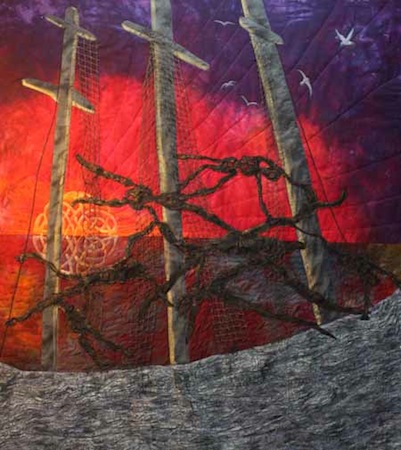 Famine Ship
©, Denny Webster, Peachtree City, GA
Expressions of Grief
The Irish Potato Famine in the mid-1800's halved the population through emigration and death. John Behan's "Coffin Ship" memorial: County Clare, Ireland.
---
Bye Gram, I Love You
©, Jackie White, MANITOWANING, ON
Expressions of Grief
Every week for 10 years I would go over to their farm and see my grandparents. And every single time, just as I was leaving, I would kiss her cheek and say, 'Bye Gram, I love you'. This quilt was made from her blouse and a sleeper that both my boys wore. The yellow buttons represent how happy life was when she was alive. The orange ones, fewer, show the time of her dying and how painful that was for us. And all the red buttons, that is to represent all the love she left behind for us. She witnessed my birth, watched me grow up, celebrated my marriage, cherished my children, and I held her hand when she died.
---
A Blue Green Wave of Healing
©, Peg Green, Reston, VA
Expressions of Healing
This quilt was inspired by the powerful healing words of a meditation CD that I listened to again and again during my breast cancer recovery: "I feel a beautiful blue-green wave of healing washing over me." That affirmation always brought a deep sigh of relief and joy as I did, indeed, feel a lovely sense of healing wash over and flow through my body, peace soaking deeply into me.
---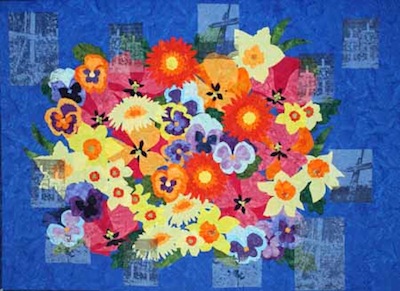 Passed This Way
©, Candyce Grisham, Washington, MO
Expressions of Healing
I live in rural Missouri and come across roadside crosses each day on roads I travel. These personal memorials have a story, a loss, a remembrance but we seldom know what is behind them. Someone has passed away at these sites and this is a loved one's way of remembering and honoring that person. I hope to show that there are many ways to remember those who have "passed away" For me this piece blended opposites – the joy in color and flowers, the sadness and grief of loss with the honoring of those "Passed Away". The piece was guided by the celebration of El Dia de los Meurtos or Day of the Dead. The flowers, carnations and marigolds, with the bright oranges and yellows speak of joy and blessings. They represent new growth and hope. The crosses are our reminders of those we have loved and lost. Digital photos were screen printed onto a sheer organza background. Batiks cottons on cotton background.
---
Facing the Past, Healing the Future
©, Shoshana Spiegel, Herndon, VA
Expressions of Healing
My mother's experience with leaving her family and home in Danzig at age twelve and traveling to England on the Kindertransport as a Jewish refugee shaped her life. Even though she did not speak often of her experiences, they have affected her children in ways that continue to be revealed. I believe that it is important to understand where you have come from so that old wounds can heal and future generations can be freed of the painful legacy.
---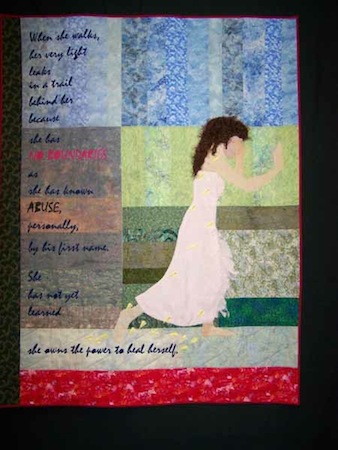 Innocence Taken
©, Beth Stewart-Ozark, Lexington, SC
Expressions of Healing
"Innocence Taken" is the artist's look back to express a hopeful path forward for those who may also experience the pain and heartache caused by a sexual trauma. Beyond the emotions which grip one at such an event, there must come a time for healing, hope and believing that we can overcome such evils. The poem on the quilt was written by the quilter.
---
Whatever It Takes: An Ovarian Cancer Diary
©, Phylls Tarrnt, Matthews, NC
Expressions of Healing
Ten years ago, I had surgery for an ovarian cyst which turned out to be stage III cancer. When I left the hospital, my nurse suggested that I keep a diary to deal with my feelings. I wrote on scraps of fabric and sometimes used fusible to create symbolic representations of what I was experiencing. After my last chemo, I put the various pieces together. The quilting is sometime straight and sometime zigzag to represent the unevenness of my emotional state as I dealt with the cancer and its treatment. I hope this diary will encourage others.
---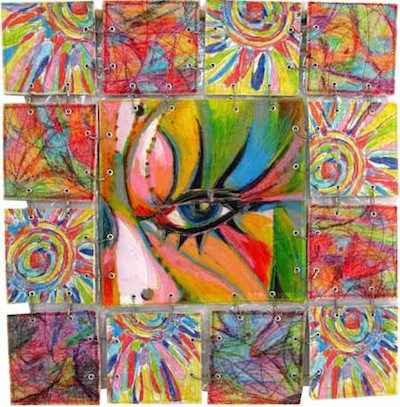 Eye of Panic
©, Linda Wyatt, Sag Harbor, NY
Expressions of Healing
Eye of Panic celebrates my personal healing from panic disorder, an illness that, for many years, haunted and often debilitated me. The border squares are comprised of alternating pieces of fabric drawn during middle-of-the-night panic attacks; its geometry is repetitive and soothing—the antithesis of panic. The large central eye, made of fabric painted with water-soluble oil pastels, signifies my newfound strength, health and well-being. In creating Eye of Panic, I have symbolically cut panic down to size, contained and restrained it, and stitched it shut. I have looked at panic—unafraid—and made it retreat.
---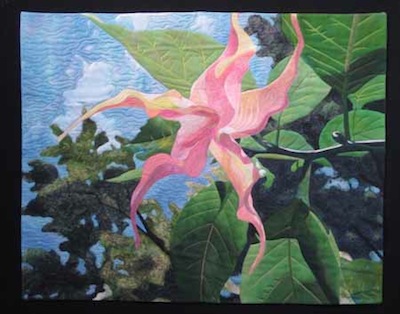 Unopened
©, Roxane Lessa, Raleigh, NC
Expressions of Inspiration
This flower depicted against the blue Summer sky inspired me to express the beauty and exuberance of Nature.
---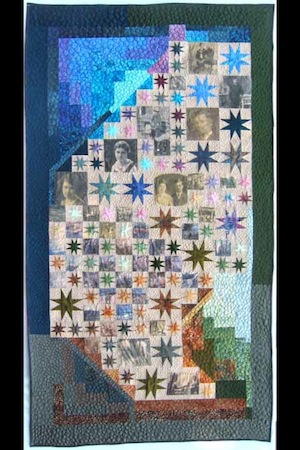 Voyages
©, Katherine Lincoln, Burke, VA
Expressions of Inspiration
This quilt was inspired by paternal grandparents. They would bring many things back from their travels. Frequently they would bring back silks from wherever they had been. I received their photograph collection in 2005 from my parents. I blended my new collection of silks and pictures into a commemoration of their 63 years together. The top part of the quilt has pictures of my grandparents as individuals. The next section starts with their 1924 passport photo and from there on the pictures are of them together or places that they visited on their eight circumnavigations of the world. The last section covers their final years together. The quilt was completed for the 20th anniversary of their deaths.
---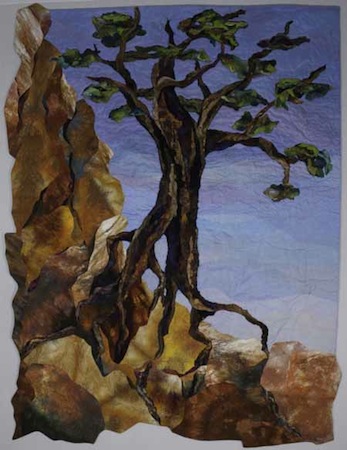 Against All Odds
©, Vikki Pignatelli, Reynoldsburg, OH
Expressions of Inspiration
I am inspired by trees in the western United States that seem to defy gravity and reason and grow out of bare rock, their root tips seeking nourishment from an unseen source. Against all odds these trees manage to persevere and even thrive in harsh elements. Though twisted and misformed, they are beautiful creations. I've always admired subtle comparisons between humans and trees and our existence together on this earth. This quilt is dedicated to people who struggle with life's burdens in their daily lives but somehow manage to hang on by sheer will and even flourish. The sky was made by layering multiple colors of polyester sheer organzas. Trees and leaves were constructed using felting techniques to mesh cotton fabrics, silks, wool and silk roving, polyester sheer organza's, cheesecloth and threads. My topstitch technique, using cotton fabrics for the rocks, completed Against All Odds.
---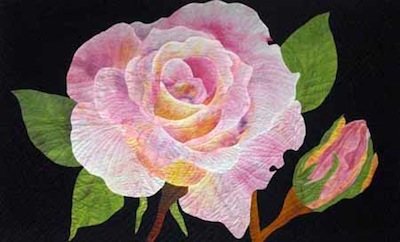 The Rose
©, Mary Ellen Simmons, Fairfax , VA
Expressions of Inspiration
I was inspired to make a rose quilt because the rose is my favorite flower, and it is the flower of my birth month. I love its many colors and its unique scent. Blooming in early June, to me, the rose always brings to mind the anticipation of the warmth and joy of the summer to come. As I enjoy the rose in the warm summer sunshine, I am reminded of the many blessings that God has given to us all.
---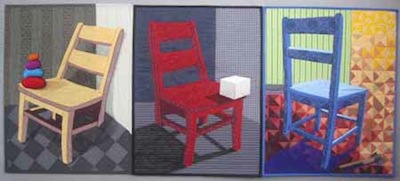 Primary Chairs
©, Jeanette Thompson, Chicago, IL
Expressions of Inspiration
This series focuses on illustrating the many ways we can reformulate and recommit in response to change or loss in our lives. We find the strength to forge ahead, either through the love and encouragement of friends and family, our faith to maintain balance, or our own inner strength to anchor ourselves. All three pieces were made using repurposed fabric from men's shirts purchased at thrift stores.
---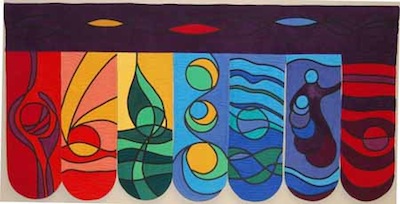 Genesis
©, Mary Bunte, West Lafayette, IN
Expressions of Liturgical
"In the beginning God created the heavens and the earth." Modern scientific explanations take a different view of how the universe came to be. However, by observing our natural world and its continual renewal, my spirit sees beauty formed and perpetuated by a great Designer. To me, the biblical story of creation is a simple, yet beautiful, description of the sequential development of life on this planet. The abstract designs in this quilt represent the seven time periods described in Genesis 1 and 2. The deep violet header represents the Triune God.
---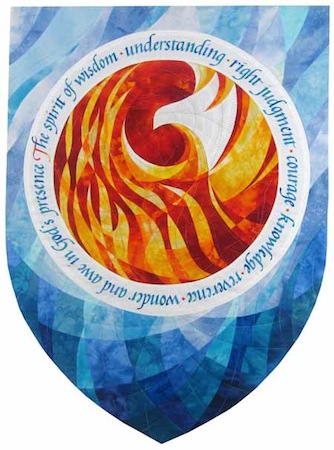 The Gifts of the Spirit
©, Liz Kuny, Mendham, NJ
Expressions of Liturgical
I made this quilt during the time I spent with a group of teens preparing to receive the sacrament of Confirmation. Along with them, I grew to more fully appreciate the power of the Spirit's gifts so freely given to those with an open heart. I've chosen to portray the Spirit as a dynamic presence whose energy can change lives.
---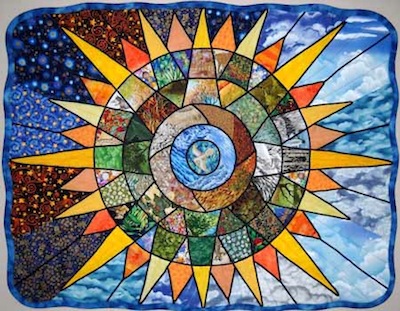 In The Beginning
©, Kit Tossmann, Louisville, KY
Expressions of Liturgical
"In the beginning when God created the earth, the earth was a formless void and darkness covered the face of the deep ... then God said let there be light." According to Scripture, God went on to say let the waters under the sky be gathered together, let dry land appear, let the earth put forth vegetation, let birds fly, let the earth bring forth living creatures, and finally, let us create humankind in our image. And God saw that it was "very good." Actually, it is way more than good. This is an astounding planet, full of astonishing creatures that are all intricately interdependent and ultimately reliant on clean soil, air, and water. To ensure the earth's survival, we must make it our mission to be good stewards of creation and peacemakers among its people. And that, in the eyes of God, would be good.
---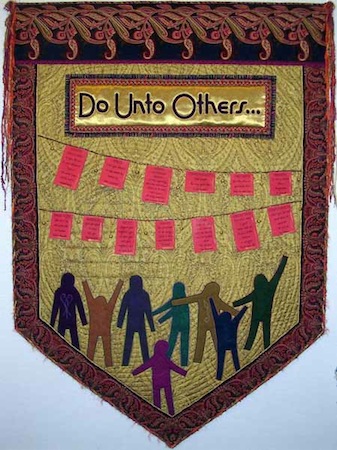 If All Else Fails...
©, Sherry Boram, Pendleton, IN
Expressions of Peace/Brotherhood
What is it about human nature that keeps us trying everything but the obvious to have a good and peaceful life?
The Golden Rule, inspiring in its simplicity, appears in some form in nearly every religion in the world. Many of them are depicted here on Tibetan-style prayer flags.
---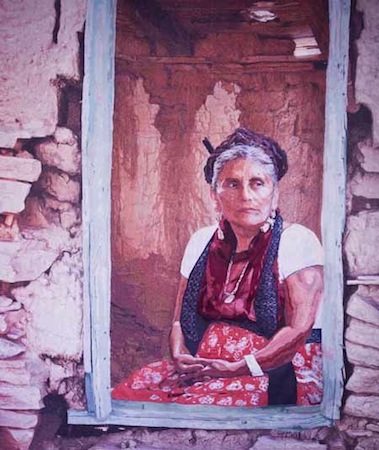 Abuela
©, Jennifer Day, Santa Fe, NM
Expressions of Peace/Brotherhood
Abuela means grandmother in Spanish. This image of Abuela is a photograph of mine printed onto fabric and then stitched in intensive thread play. Her body is totally covered thread. The background is free motion embroidery. She is sitting in the window of an old adobe building near Santa Fe, New Mexico. Her demeanor is one of peace and contemplation. You get the feeling that she has seen many things in her life and she is at peace with what she has seen. It was my honor to have captured this moment and have been able to express this through my art.
---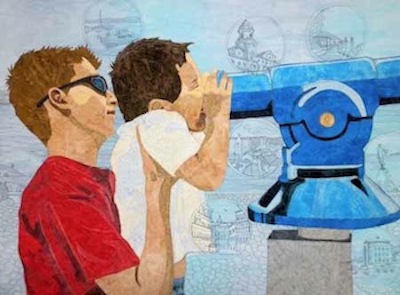 Lemme See!
©, Kate Themel, Cheshire, CT
Expressions of Peace/Brotherhood
A big brother helps his little brother look through a coin-operated telescope. They share the complete freedom of summer vacation, one of the unique joys of childhood.
---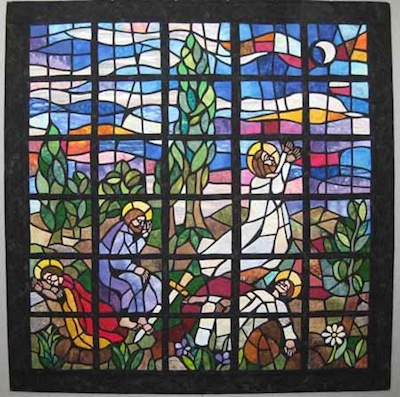 Gethsemane
©, Carol Auer, Carmel, NY
Expressions of Spirituality
An interpretation in fabric of one of the windows in St. James the Apostle Church, Carmel, N.Y. of "The Agony in the Garden" by stained glass artist Pierre Millous of Chartres, France. It took me seven years to complete this reverse appliqué quilt as I prayed through grieving the loss of my son, Nicholas.
---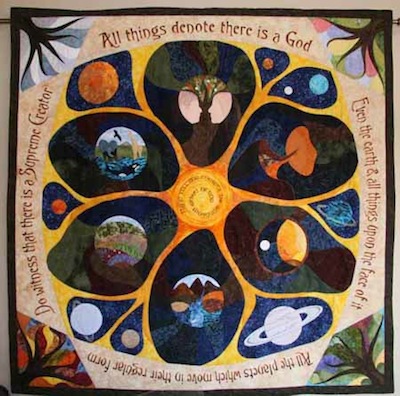 Creation
©, Jennifer Eden Clark, Meridian, ID
Expressions of Spirituality
When I see, experience, and ponder on the absolute beauty and order of the natural world I think of God and how much he must love us to create this marvelous earth on which we dwell. The quilt depicts the six creative periods of the earth, the planets in the solar system, and the four seasons. Making the quilt inspired my faith and reminds me of the scripture, "Be still and know that I am God". Many "angels" appeared to encourage and assist me. Many prayers were answered. If I was the only creator of this quilt, it wouldn't exist.
---
36
©, Mary Beth Frezon, Brainard, NY
Expressions of Spirituality
In Judaism there is a tradition that tells of the 36 righteous individuals, the Lamed Vavniks. They are hidden, unknown to the world and even themselves. Because of their existence God spares the world and because of God's mercy if one of the 36 dies he is instantly replaced with another. We cannot know who these 36 are at any one time, so we must each strive to live as if we are one of them.
---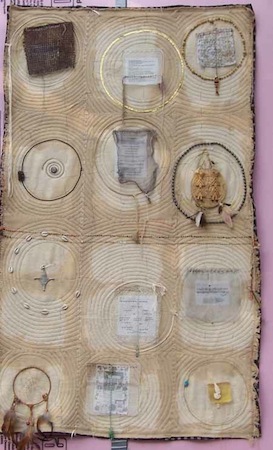 In Search of Soul
©, Nancy Hicks, East Rochester, NY
Expressions of Spirituality
From the beginning of time, people have searched for the meaning of life, in search of soul. Each belief is centered and radiates energy. Beliefs are interconnected and support each other, however distant they might appear.
---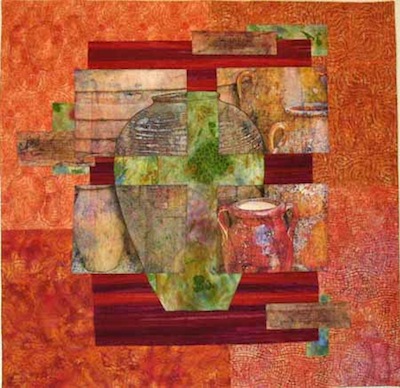 Jars Of Clay
©, Judy Momenzadeh, Homestead, FL
Expressions of Spirituality
We all make judgments based on appearances and first impressions. Our true essence or spirit is on the inside, our bodies are but vessels that carry this spirit. We're all filled with the Spirit of God. Let us learn to see that spirit that makes each of us unique and not the clay that makes us human.
---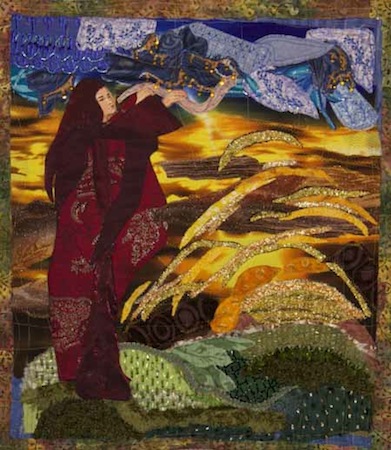 Blast from the Past
©, Kathy Zieben, Houston, TX
Expressions of Spirituality
The shofar is a horn used for religious purposes. The blast of a shofar emanating from the thick cloud on Mount Sinai made the Israelites tremble in awe (Exodus 18, 20). I remember hearing the piercing blasts each and every year on Rosh Hashanah and Yom Kippur. It was always such an exciting time! My quilt shows a shepherd standing on a mountain blowing the shofar. From her advantage point everyone is able to hear its distinct sound. I can only imagine what it would have been like to stand in that field and feel the excitement from the sound. This was the inspiration for my quilt.