Gallery - Sacred Threads 2009
Below is just a small sampling of the wonderful quilts included in Sacred Threads 2009.
The photos and artist statements are provided courtesy of the artists.
Artists maintain the copyright to the images and text.
Unbound
Thomas A. Baillieul, Columbus, OH
Expressions of Joy
32" x 40"
Joy on the wing is the only way to describe the lilac-breasted roller. I first encountered this colorful member of the crow family on my first visit to the Kalahari Desert. An aerial acrobat, the roller loops and tumbles across the sky in a manner that can only be understood as sheer exuberance. As its wings catch the sunlight, flashes of electric blue fire burst forth, adding to an already dazzling display. The joy expressed by a roller in flight is infectious; people of all cultures can't help but break into smiles while watching these airborne antics.
---
Lady in Waiting
Cynthia St. Charles, Billings, MT
Expressions of Joy
25" x 34"
This quilt was inspired by the swelling belly of my pregnant daughter, Elizabeth. I loved the lines of an Egyptian tomb painting of a seated female figure, and wanted to try that style for this piece. All the fabrics and fibers have been hand dyed by me. Details include hand sewn glass beads and machine quilting. I researched hieroglyphics for the background quilting.
---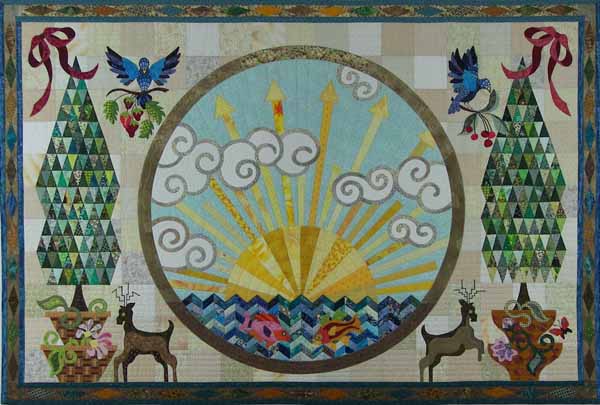 Good Morning
Rachel Wetzler, St Charles, IL
Expressions of Joy
54" x 36"
"Weeping may endure for a night, but joy comes in the morning." Psalm 30:5

Tied up in bows, the gift of a new day dawns. All creation sings Good Morning as the sun arises on the beauty of our world and the extravagant variety of life it supports.

This design is adapted from a frieze in Leighton House, England from 1879.
---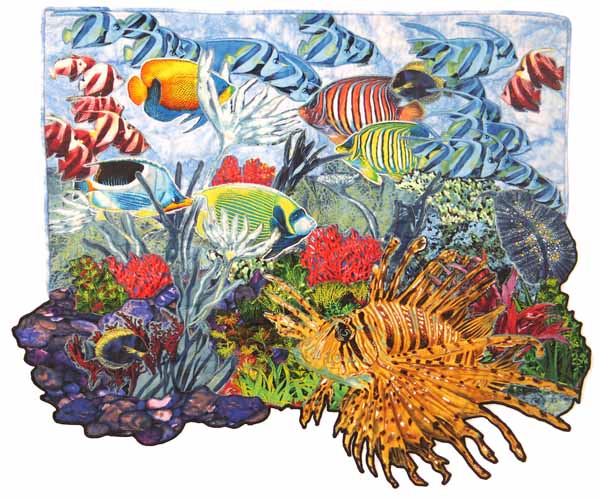 Lion Of The Sea
Janice Potter, Scottsdale, AZ
Expressions of Joy
26" x 21"
The beauty of the underwater scenery has fascinated me since the day of my first dive in the Red Sea. The experience is exhilarating and each dive brings joy and new admiration for its diversity. I have tried to capture these experiences in this quilt—the serenity, the vibrant colors, the flowing movement of the sea life. It was a joy to make this quilt.
---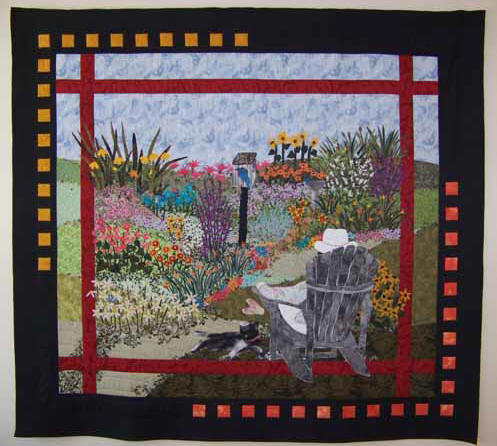 My Peaceful Place
Carol R. Eaton, Shelton, CT
Expressions of Joy
65" x 61"
I derive a strong sense of pleasure and peacefulness working in my gardens. I'm excited every spring as the plants begin to show themselves after the long New England winter. I have an irresistible urge to reshape my gardens and move plants around creating a different look and feel each season. My constant companion is my cat, Smokey, who moves around the yard with me flopping down beside me for a nap. Each time I look at my quilt I'm transformed back to a peaceful place where I feel calm and can reflect on my thoughts.
---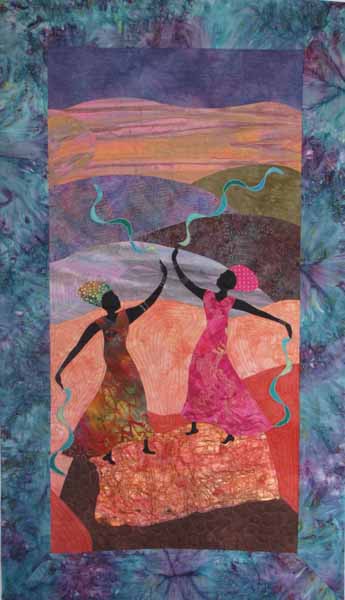 Dance!
Sherryl Buchler, Scottsdale, AZ
Expressions of Joy
23" x 39"
When I started to do non-traditional quilts, I found that my creativity exploded. The freedom I found is interpreted in the joy of this piece, Dance! Dancing for me is a freeing of spirit and very joyful. This was also the first piece I used my own hand dyed fabrics as well as playing with some Tyvek.
---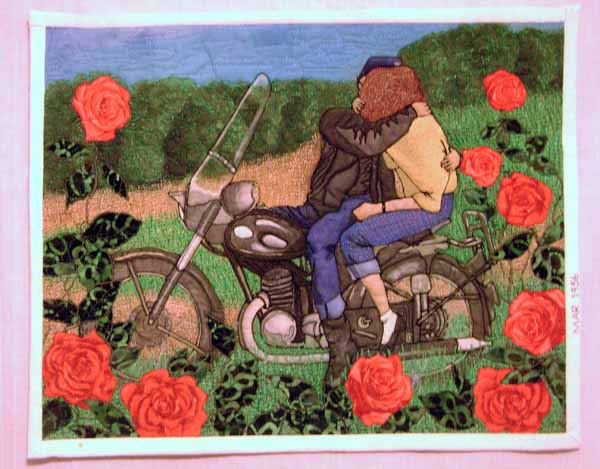 Kodachrome
Barbara Zuazua, Douglassville, PA
Expressions of Joy
18" x 15"
Inspired by a black and white photo taken in the 50's. I thought of the song "Kodachrome" and decided to colorize it as a quilt. This image expresses joy of a perfect summer day, freedom to roam and a passionate kiss.

The border is intended to mimic photo borders of the time with the date printed on the side. The label is designed like a slide. My dad took this picture and I used one of his slides as a guide.

Hand painted, thread painting, appliqué, and machine quilting.
---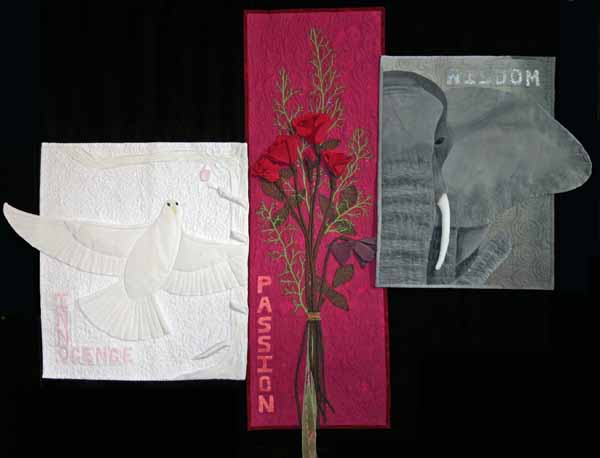 Life Cycle of a Female
Kathy Lichtendahl, Clark, WY
Expressions of Spirituality
48" x 34"
2008 was a year of reflection for me. Not only did I reach the half century mark, I also came to the undeniable and surprisingly poignant realization that that not having children was no longer my decision. As I thought about the stages in a woman's life, I realized the two defining events - puberty and menopause - are ones over which we have no control. These milestones color our own emotional outlook and the way we are viewed by the rest of the world.
The three parts of the quilt are Innocence, Passion and Wisdom. At the trailing edge of each phase is a glimpse at the next. The end of wisdom was meant to be much darker, signifying death, but it did not turn out as planned. Perhaps I am not yet willing to accept that there is not another stage...just out of view.
---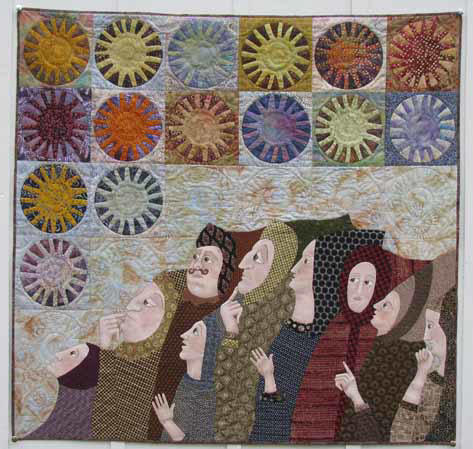 The Followers
Marlene J. Shea, Wethersfield, CT
Expressions of Spirituality
45" x 44"
My inspiration came from my personal struggle with a medical issue. I'm finding that letting go of control and looking for spiritual guidance is helping me to deal better with my problems.
---
Can You Feel the Spirit?
Cathy Pilcher Sperry, West Chester, OH
Expressions of Spirituality
57" x 57"
"Can you feel the spirit?" Yes, I can! That is how I felt as I worked on this quilt. Everything flowed. Everything came together at just the right time. Materials were just the right size and in the right quantity, time after time. It was not a coincidence. It finally occurred to me that God was trying to tell me something, that He is in charge and He provides just what I need at the time I need it, in all aspects of my life. I look at this quilt and see the hand of God because that is surely who did this.
---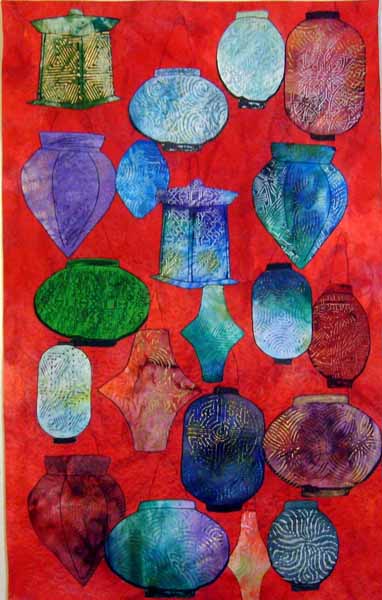 Hungarian Lanterns
Susan Sanborn North, Troy, MI
Expressions of Spirituality
29" x 47"
In his very sad song "Take this Waltz" (based on a poem by Garcia Lorca) Leonard Cohen mourns the death of his lover and sings of "Hungarian lanterns". The meaning of this has been long debated among Cohen fans and trivia experts because there is no such thing as a Hungarian lantern. When the phrase is Googled, every hit leads to a Leonard Cohen site. I have solved the issue, at least to my satisfaction, by visualizing colorful silk lanterns as a metaphor for the souls of those we love who have died.
---
Temptation
Karen N. Fridy, Lewisville, NC
Expressions of Spirituality
16" x 24"
I've always wondered what made her do it…why was the choice so hard? The instructions were clear, perhaps the consequences not so. But it should have been an easy decision, right? So why? Why did she do it? Yet, how often do I find myself right where she was: tempted. To do this, or not do the other, to give up, to give in. Yes, she may have written the book, but I? I turn the pages. And I too must choose: obedience…or consequence.

It is our defining moment when we choose to do what's right.
---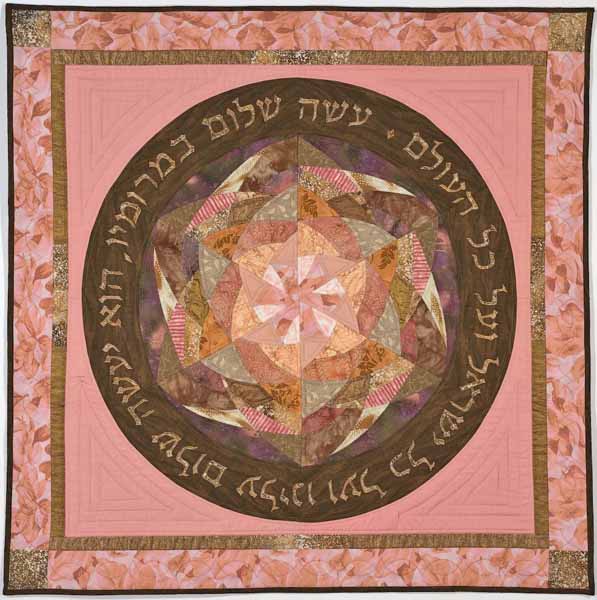 The Peace Quilt
Ellie Pancoe, Mount Desert, ME
Expressions of Spirituality
41" x 41"
"The Peace Quilt" is a mandala. Mandalas have been created in many cultures to represent the completeness of the universe, both on a personal and cosmic level. The image is always circular, as the circle symbolizes the cycles of life, both in nature and in the human world.

The circle is also a universal symbol of wholeness and healing. In this quilt, the interwoven fabrics of the central circle represent this integrated view of the world. The outer band contains the Hebrew prayer for peace, coming from my own tradition of Judaism. Without wholeness, there is no peace.
---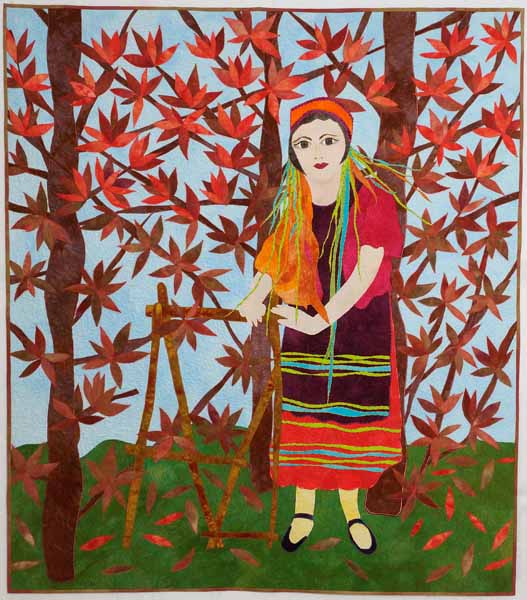 Autumn Gypsy Rose
Susan Schrott, Mount Kisco, NY
Expressions of Inspiration
47" x 53"
Inspired by a photograph of my maternal grandmother Rose Wander Kornfeld taken of her in Saslov, Poland before World War II. My grandmother was dressed in a Purim Costume, a Jewish Holiday, and she was on her way to a masquerade ball. She came to America using her sister's passport because her sister was afraid to leave their mother. Her sister was later killed by the Nazi's in Germany.

Hand dyed cotton fabrics by the artist. Textile paints, variegated cotton threads, metallic threads and rayon threads. Fused appliqué. Free motion/machine quilted.
---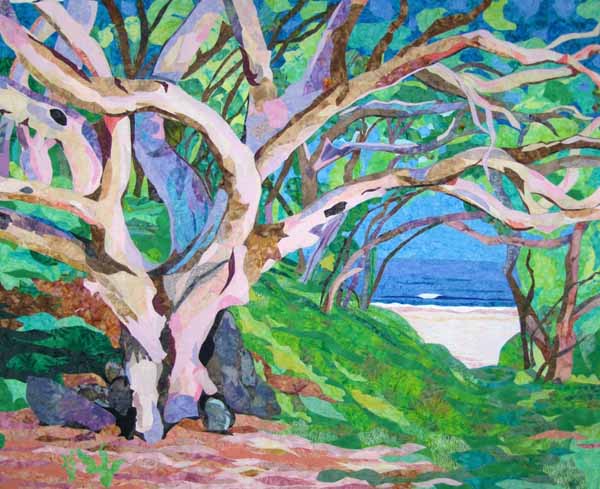 Hidden Beach
Melinda Bula, El Dorado Hills, CA
Expressions of Inspiration
72" x 54"
I lived at the beach for 11 years. It was 11 years of joy and 11 years of trials in my family's life. Across the street from our house was the beach path. We would walk under an old trestle bridge, past a little park and down to Hidden Beach. It became my sanctuary. When things got difficult and they did, I would walk to the beach with my small child, to pray. God has answered all those early tearful prayers. Today I live miles away from my Hidden Beach and my life has changed, but as I watch my only child become a man, earn his college degree and contemplate serving his country in the military, I am again drawn to the peace and strength of my Hidden Beach.
---
Pelton's Rose-Gentian
Nancy G. Cook, Charlotte, NC
Expressions of Inspiration
45" x 50"
My inspiration was a photograph published in the Nature Conservancy Magazine of a flower discovered in the 21st century by John Pelton, an amateur botanist and photographer of Arkansas wildflowers. Pelton is in his seventies and a retired engineer. I was so moved by this documentation of the contributions to science by amateurs in the 21st century and by people in their golden years that I was inspired to create a quilt to commemorate the event. I purchased permission from Pelton to use the photograph as inspiration. A copy of the original photograph is on the back of the quilt.
---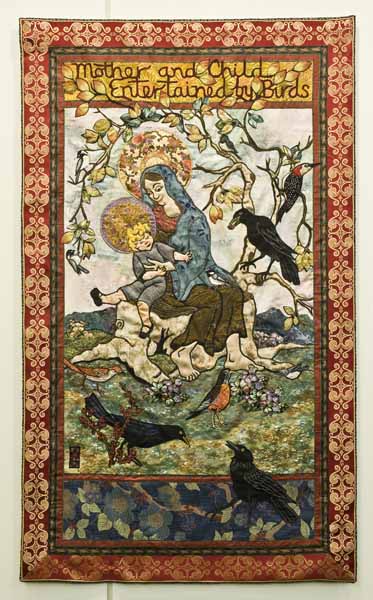 Early Birding
Alice Gant, Trumansburg, NY
Expressions of Inspiration
43" x 72"
The birds are investigating the wiggly child who longs to play with them. The child doesn't realize that the chickadees will light on him if he is still. The mother understands chickadees and cherishes this peaceful forest rest.

My grandmother, who taught me to be an enthusiastic birder, would have enjoyed the exhibit "Oh Joy! Oh Raptor!" at the Cornell University Lab. or Ornithology. This banner was first shown there.

Children, like birds, move quickly through our lives; we watch them with endless astonishment and joy.
---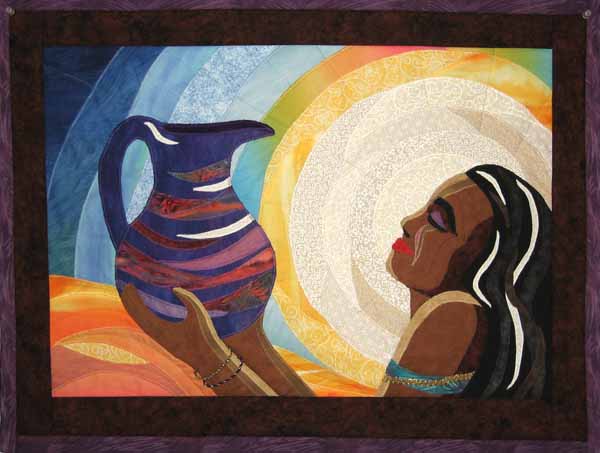 Make Of Me A New Vessel
Kit J. Tossmann, Louisville, KY
Expressions of Inspiration
30" x 23"
Needing to put pieces of my self back together and nurture my artistic inclinations, I attended a Spiritual Arts Retreat and got to "do art" all weekend! This scripture in Jeremiah inspired my design. "So I went down to the potter's house where he was working at his wheel. The vessel he was making of clay was spoiled in the potter's hand and he reworked it into another vessel, as seemed good to him...look, as the clay is in the potter's hand, so are you in My hand." This describes the creative process and the feeling of spiritual and artistic renewal I felt from the retreat.
---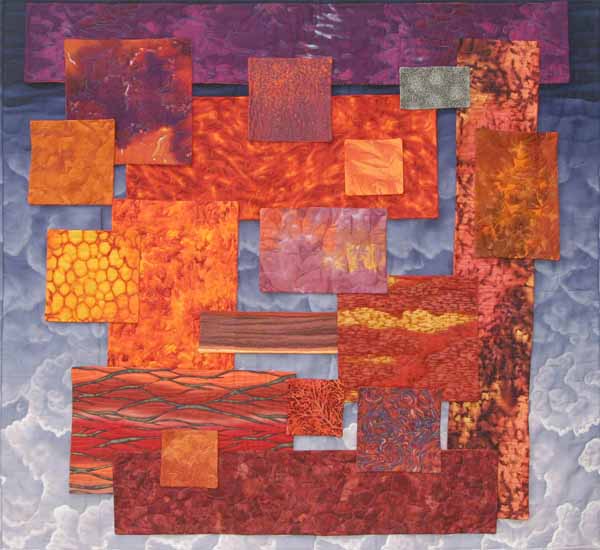 Red Sky At Night
Ann Louise Mullard-Pugh, Las Vegas, NV
Expressions of Inspiration
43" x 39"
Red Sky at night? Sailor's delight. Red Sky in the morning? WARNING!

Two of the most inspiring moments of a day are the sky at sunrise and at sunset. Living in the desert Southwest, we are treated to many spectacular visions.

It is somewhat less romantic to learn that part of the reason for the spectacular show is dirt and pollution in the air. So do I work and pray for cleaner air or for more inspiring skies? There are no easy answers.

Separately quilted layers hung together, commercial fabrics.
---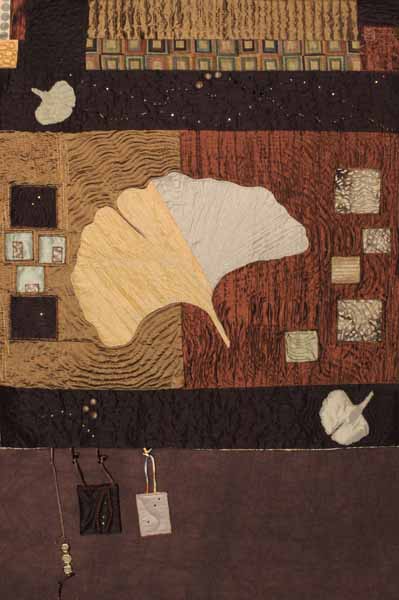 Serenity
Barbara L. Caldwell, Mansfield, OH
Expressions of Healing
21" x 24"
My husband, Bill, died too young at 52 of an autoimmune disease that left him totally paralyzed and unable to speak. His spirit was as strong and unwavering as the ancient gingko tree, even on the days of severe pain. His spirit shines through this simple graceful gingko leaf. And my healing comes from remembering his grace and love.
---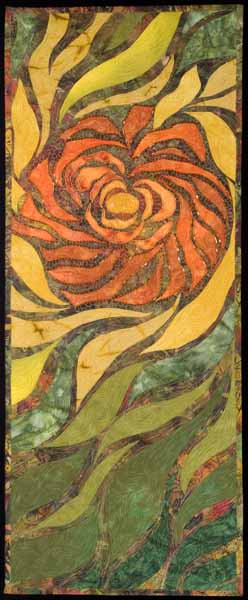 Gaia
Larkin J. Van Horn, Freeland, WA
Expressions of Healing
18" x 45"

The spirit and idea behind "Gaia" is that of rebirth, regeneration, growth, energy and creation. No matter how we humans choose to plunder the resources of the earth, she seems to always come back - perhaps not in the same way as she once was, but she does come back. There is energy in this regeneration, as the earth adapts to what we visit upon her, and heals herself. Would that we could rein in our acquisitive impulses and honor what is offered.
---

The Woman at the Well
Dianne V. Dockery, Kutztown, PA
Expressions of Healing
19" x 68"
Day after day, she came to fill her jar with exhaustible physical water. And then, this noonday trip to Jacob's Well transforms her forever. She meets the Messiah, Jesus. He offers her Living Water with the promise to quench her soul's thirst forever.

This encounter, recorded in the Gospel of John, is a testament of hope and healing for all who seek soul-quenching peace, especially battered, bruised, and banished women.
---
Ground Zero
Lois Jarvis, Madison, WI
Expressions of Healing
85" x 85"
I made this quilt to be viewed by other people, and to somehow touch them. I hope it will remind everyone that the loss of the buildings and their material content was not the important event that day. I hope it will show the viewer that the individual people on this quilt, the happy smiling people at work and at play, the brides and grooms, the fathers and mothers, the young so full of promise and the old with so much still to offer, who all perished that day, are the important things to remember.
---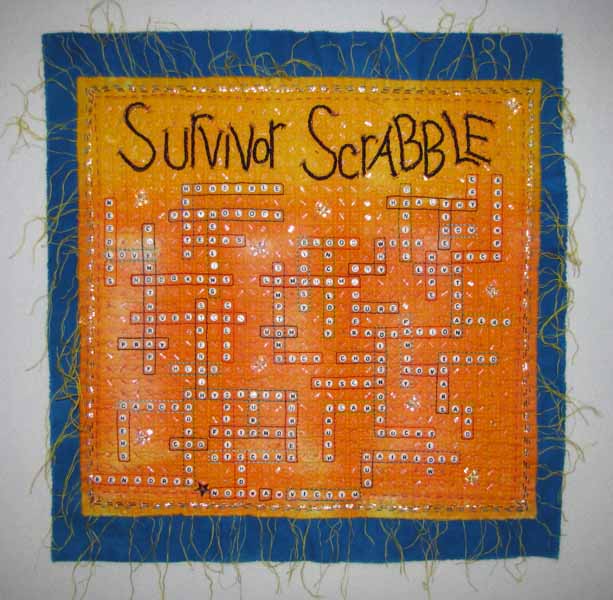 Survivor Scrabble
Denise Hitzfield and Vanessa Owens, Huntsville, AL
Expressions of Healing
18" x 19"
They say life is like a game...
That you're a victim of chance.
But, with one roll of the die, the odds can turn against you.
Three months before my 18th birthday, they told me I had Hodgkin's lymphoma.
Everything I perceived as reality seemed to vanish.
I was left to an endless tormenting game of scrabble in my mind...
Desperately searching for the right words to fit.
The game board of life is set.
It is up to you to make sense of the game pieces.
To make your mind up to be a survivor and win the game.
Life is like a game, so they say...
---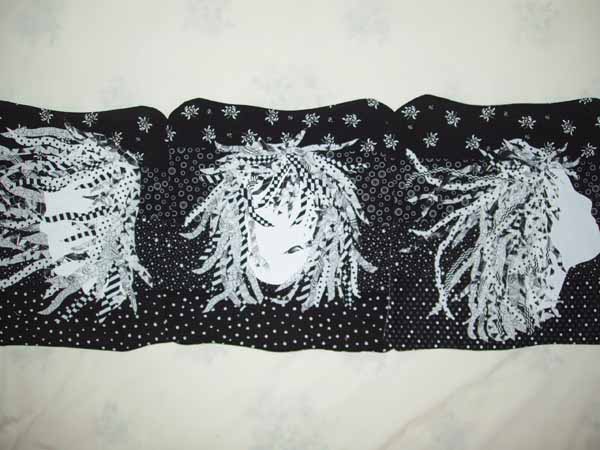 The Journey of Hope
Peggy Trickler, Henderson, NC
Expressions of Healing
36" x 14"
Confronted with cancer, I faced my future, as the security of Life was no more, but my security in God was steadfast. The first segment, "Where There is Hope" is the aftermath of my initial diagnosis, when the fragility of my existence surrounded me. In "Where There is Peace," despite the chaos within me, my faith was held fast by the hand of God through this time of uncertainty. The third, "Where There is Joy," carries my joy in the recognition that I am never alone. My soul is healed because of Him and I can sing and dance in His praise.

---
Wish There Were More
Mary Beth Clark, South Elgin, IL
Expressions of Grief
64" x 44"
My mother died when I was 8 ½ years old. I have wanted to remember everything I can about her. Some memories are vivid moments suspended in time. Other memories are fragile and hard to hold, like soap bubbles. I find comfort in the memories that I have, but also wistful longing because I wish there were more.
---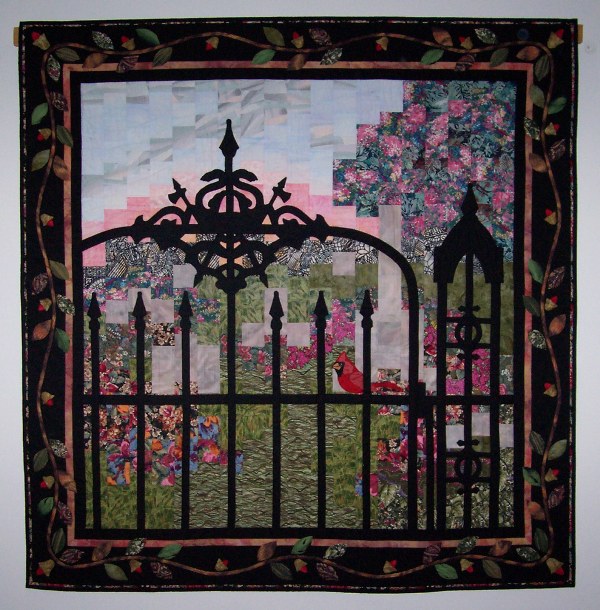 Pearsall Gate: Entering Eternity
Mary Wirchansky, Schenevus, NY
Expressions of Grief
45" x 47"
Several years ago, after visiting the cemetery in eastern North Carolina where four generations of my grandparents rest, I knew I must make a quilt. The gate, in particular, was ever in my mind. Its motifs were haunting, as if expressing the grief felt by the loss of each generation. The counterpoint is that which lives – the flowers, the cardinal; and most importantly, their souls. On the back there is a shadowed square representing the life of each one resting there. These are sacred threads binding me to those who have gone before.
---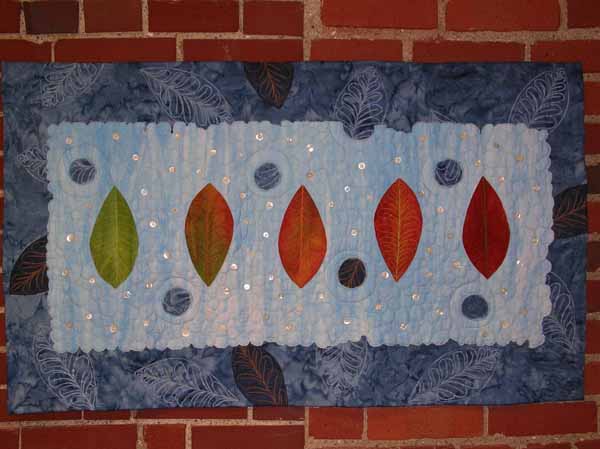 Frozen in Time
Susan Nash, Zanesville, OH
Expressions of Grief
40" x 24"
Addiction is a terrible blight on our society. It affects not only the person who suffers from addiction, but also every member of his/her family, their friends, and even their community. To watch a close family member go through this process is all-consuming. You become "frozen in time".
The leaves in this piece represent someone very near and dear to me who is living with addiction and recovery.
My hope is that he will break free of addiction and become a green and vibrant member of society...."one step at a time".
---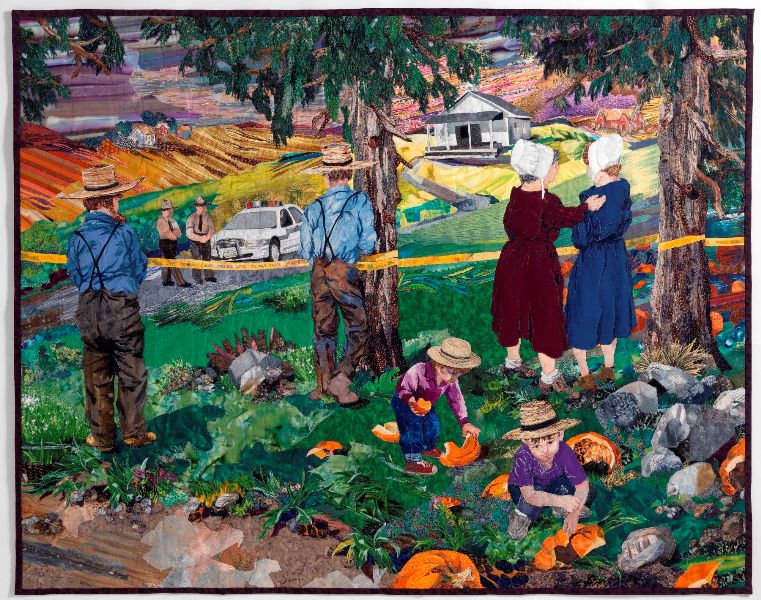 Pastoral Disturbance
Susan Polansky, Dedham, MA
Expressions of Grief
] 52" x 44"
] I am but a child when it comes to understanding random acts of violence. I can look at the shattered remains and know what they used to be, but what forces brought on the destruction and why? Can the pieces be re- united; what is too damaged to salvage? How do people reconcile grief and anger with forgiveness? Pastoral Disturbance focuses on a Pennsylvanian Amish schoolhouse where a massacre occurred in October, 2006. The perpetrator randomly victimized the children within, and surprisingly, even after ten girls were shot and five of them died, the community responded with forgiveness.
---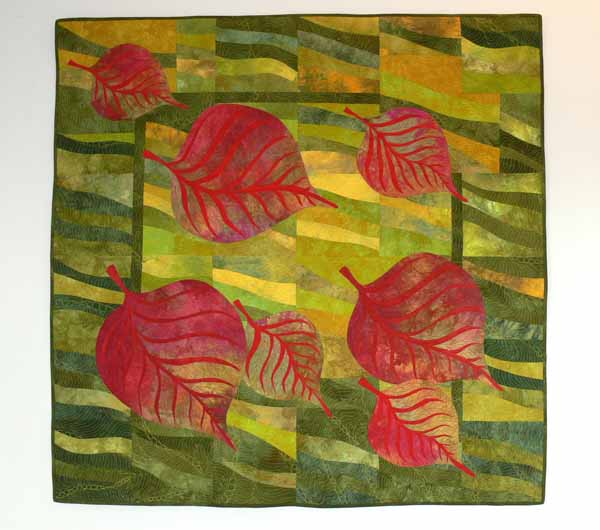 Losses 2
Elaine Quehl, Ottawa, ON
Expressions of Grief
45" x 45"
Loss is a theme that follows all of us as we move into middle age. What once seemed lasting and solid can prove to be fragile and impermanent. Losses 2 is the second work in a series. In the first work (Losses) I captured a soft feeling of sadness with the green and gold colours and floating leaves. In Losses 2 my goal is to capture the gut wrenching feel of major personal loss, and for this reason I have chosen a graphic leaf in a crimson shade. And yet, is life perhaps more beautiful because it is fleeting?
---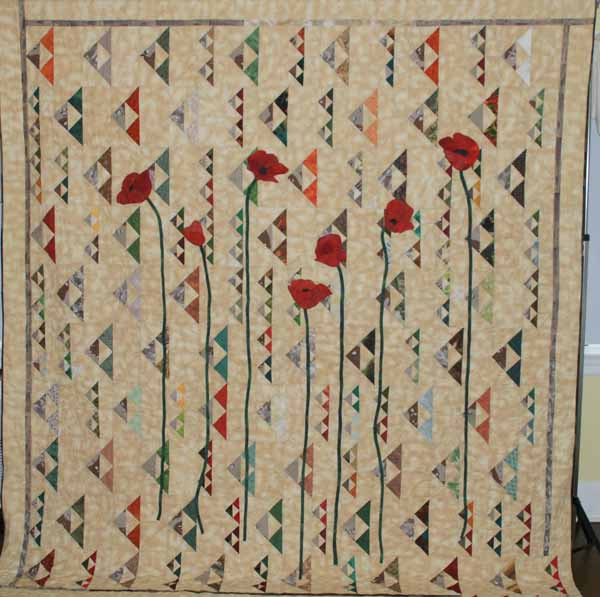 FORCED DEPLETION
Kathleen Wixted Francis, Wayne, PA
Expressions of Grief
96" x 105"
Forced Depletion- a term used on West Wing to describe the "cost " of war. When I started this piece – I hoped 'they' were right. That the war would be short with few casualties. I started with an original 10 inch block - Pride & Joy, after a few weeks I switched to a 5 inch block – so many were dying. On the day the Bush declared " the was is over" the count was 171 dead.
When they continued to die – I added them to the back, first with a 2 inch stamp of the block, then a 1 inch stamp. There are 3,796 on the back, and the dying continues. Americans are represented by fatigue fabric donated by the factory that made the uniforms they wore. The British, by a brown wave fabric. The other fabric in each block is different from every other – as each man lost is to his family and friends. Journalists are represented by the newsprint, as they were "imbedded " with the troops. The names of other countries that lost men are printed in the border. The poppies – of course – represent the blood spilled by those lost.
---
Can We Sew Peace by Morning
Carol Bridges, Nashville, IN
Expressions of Peace and Brotherhood
52" x 62"
"Can We Sew Peace by Morning" came to me after thinking about the war in Iraq and the many wars that have plagued humankind. Quilters are a very compassionate people, often devoting hours of work into a quilt to be given to someone in need. This quilt depicts five women and a child, each expressing a slightly different emotion which they have embroidered into the quilt of the world as the sun begins to rise in the background. The fringe depicts that which is yet unfinished, threads of love not yet woven into the fabric of the world.
---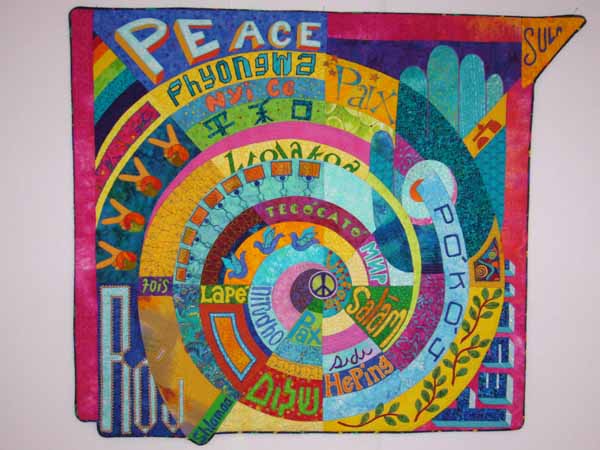 Peace Mandala
Cris Fee, Lebanon, OH
Expressions of Peace and Brotherhood
39" x 33"
After researching the history, meaning and patterns of Mandalas, I have chosen to create a contemporary adaptation of a traditional design. Building upon a spiral base, I have incorporated commonly recognized peace symbols and added the word for "PEACE" in twenty-five different tongues. These languages were selected for their political reverence, their geographic location or the shape of their word for peace. My Peace Mandala is an expression of my hope that all people on this planet, which we share, recognize our common desire for Peace, while overcoming our fears and recognizing the value of our differences. The mood and appearance of this quilt pays homage to and is a reflection of a time when the universal hope for peace and love prevailed.
---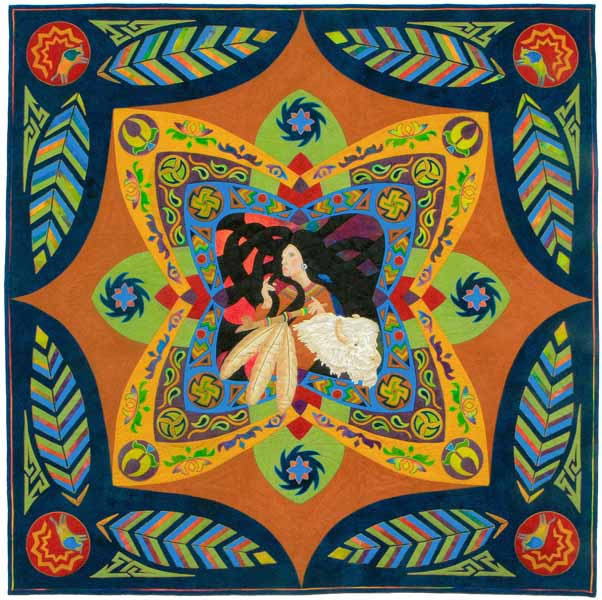 White Buffalo Calf Woman Rhapsody
Janice Potter, Scottsdale, AZ
Expressions of Peace and Brotherhood
60" x 60"
The Lakota legend of the White Buffalo Calf Woman is as pertinent today as it was 2000 years ago. She brought the legendary Peace Pipe and taught the people to be responsible keepers of the pipe, cultivating peace for all races - white, yellow, red and black – emphasizing we are all members of the same family. She instructed them to be responsible caretakers of the land and to be mindful that the children are the future of the people. "Think about the future, for we haven't just inherited this earth from our ancestors, we are borrowing it from our unborn children". Joseph Chasing Horse, Traditional Leader of the Lakota Nation.
---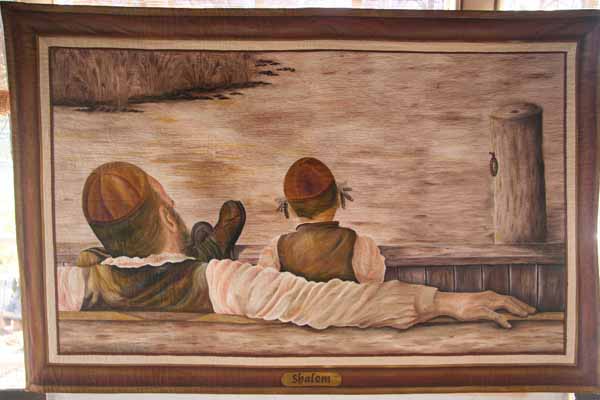 Shalom
Barbara Barber, Westerly, RI
Expressions of Peace and Brotherhood
67" x 43"
How privileged to live in a time when a multitude of quilting techniques are acceptable. Before quilting became my obsession, I painted in oil and acrylic. Then, my interests gravitated into quilting and the fabric mediums. Painting on fabric combines the two mediums.

'Shalom' is adapted from a photo taken by granddaughter Balie. The image of father and son, relaxing on a park bench, easily developed into the resulting quilt.
---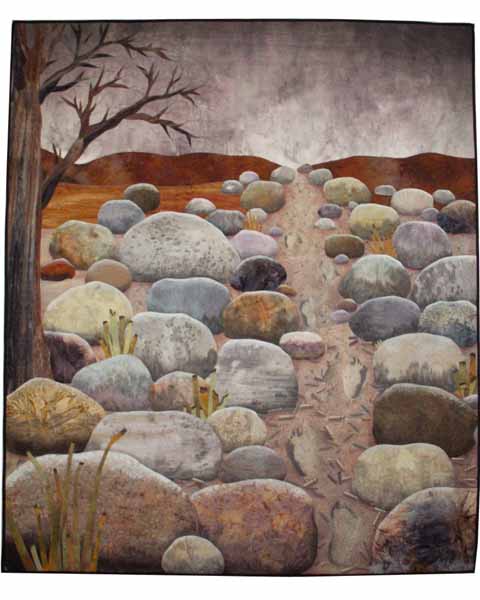 Refugee
Betty Busby, Albuquerque, NM
Expressions of Peace and Brotherhood
62" x 72"

Originally inspired by the terrible situation in Darfur, this piece is dedicated to all the people of the world who are displaced from their homes by violence.

This piece was created with photo transfers from my own photography.
They were collaged together with my own and over painted batik fabrics.