Gallery - Sacred Threads 2003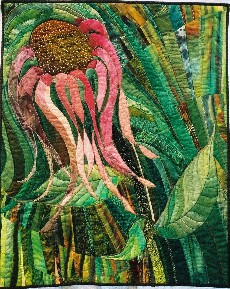 Cone Flower, Queen of the Prairie
© Rosemary Claus-Gray, Doniphan, MO
Spirituality
"Cone Flower, Queen of the Prairie", is a reverent quilt for me. The beauty I see in a single flower is a reminder that God is in his place, and all is right with the world, especially during times when I cannot understand "why" something terrible has happened.
I finished this quilt at the time of a severe earthquake in India, where thousands of people died. At times like this, I am deeply shaken. It can be difficult to find my faith that there is a God. The flower, for me, is something like a promise from God that He truly is there. I experience spiritual nurturing and comfort in the beauty of nature. Nature gives me faith and courage to go on, in spite of my incomplete understanding.
This piece is my expression of thankfulness for life, faith, and my gift of creativity. It is my way of honoring God.
---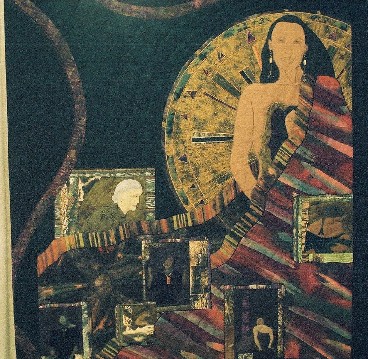 Rising
© Linda Filby-Fisher, Overland Park, KS
Inspiration
While our bodies and minds are laid low and
hurled dizzy by life, our centers breathe in
these experiences, gain wisdom, and grow
and we rise.
Through it all. Rise!
Our Story pain and glory.
We rise.
Joyfully created with deep regard for the
Human spirit, and the light within.
Human stories are told within the Life blanket which is draped over the central figure's shoulder. Her center is depicted by a winged figure and a circle of light.
Quilt front and back have embroidered Rising statements and words for Rising in many languages, carved fetishes, and fabric printed photographs.
---
A Mother and Three Daughters
© Cynthia Tabor, McCall, ID
Healing
I had a soul searing childhood. It is hard not to feel guilty saying that because I know of many others whose growing up experiences seem so much worse than my own. I was never physically abused. It was a steady emotional battering that my sisters and I endured.
My father died suddenly when he was only 43. My mother was 39, I was 14, and my sisters were 12 and 11. The day of the funeral after the service, my sisters and I had a talk. We agreed that his death had occurred just in time to save us from what we saw as our inevitable destinies: I had been saving money for a bus ticket to my grandparent's house and intended to leave; my middle sister felt she was just about to have a nervous breakdown; my youngest sister harbored thoughts of suicide. We never spoke of these thoughts again. We thought we had been spared and saved.
It took us awhile to realize that my dad had only been part of a dysfunctional team. My mother was also emotionally abusive, but at least with one half of the team gone, it was manageable. It also took us some time to realize that the emotional scars we spoke of after dad's funeral were not resolved with his death - we carried them forward and they formed our responses and outlooks on life, some of which became self destructive as we moved into adulthood. I continued to have deep urges to pick up and leave whenever the going got rough; my middle sister still suffers from nervous disorders; my youngest sister struggled for years with dark thoughts and self destructive behaviors.
Many years have passed and we sisters are middle-aged. We have learned to speak more openly with each other to put a stop to the isolation we grew up in. We have all made peace with our mother and have, as adults, built a relationship with her. This did not come about easily - we have all spent years in counseling hoping to achieve some kind of reconciliation with our past and have also experienced periods of time where contact with our mother was unbearable. Although I periodically felt that perhaps some wounds weren't meant to heal and I would at best reach a kind of acceptance of the pain and confusion surrounding my growing up years, I now understand through my own personal experience that with compassion and faith in God healing is possible.
Creating this art piece was a very emotional and moving experience for me. I start each art quilt with a full-scale drawing and make notes on it. Mapping out this particular quilt was sometimes done with a shaking hand and quivering heart, but I was compelled by a deep dissatisfaction with the dissonance in my spirit to try and reach some kind of resolution. My faith kept me steady enough to complete the process. Sometimes I spent hours finding just the right color palette or fabric swatch for a piece of my mother or one of my sisters. Placement of each person in the portrait was very important. From left to right they are: my youngest sister, my mother, myself, and my middle sister. Their positioning is an explanation of how we all relate to each other. The nine-patch foil band across our hearts is the golden love of God that binds us together and heals us. The arching arbor of brilliant flowers above our heads is the hope and prayer that the healing process will continue.
---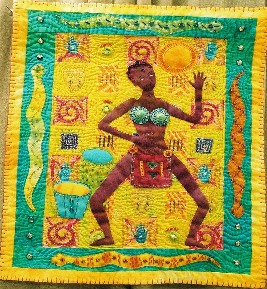 Celebration – Balancing Her Chakras
© Janet Ghio, Columbia, MO
Healing
Celebration was started in the fall of 2000. For the background, I chose a piece of fabric that I had stamped and hand dyed and then I designed the figure of the woman dancing. In October 2000, I was diagnosed with endometrial cancer and had surgery. When I resumed working on the quilt several months after the surgery what had started out to be just a woman dancing, became a woman confronting and "dancing" away her disease and balancing her chakras to restore her health. There are seven beads symbolizing the seven chakras or energy centers running up through her body. Her hands are radiating healing energy and she has one placed on her abdomen. The images in the background of the quilt took on new meaning - the masks represented cancer to me and I surrounded them with green healing light; the small mirrors, a reflection of the self; the spirals, the circular path our lives take inward and outward. I added the snakes, a universal symbol of transformation and change.
---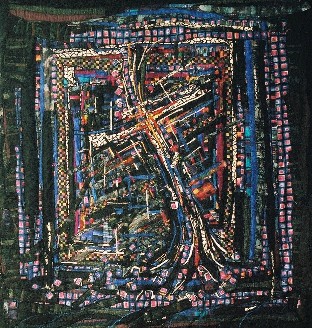 Quake
© Mary McDonald, Champaign, IL
Grief
This quilt is one of three fiber art quilts that represent my personal reflection on a series of events. First: I felt the shock when I viewed on television the collapse and destruction of beautiful 13th century frescoes in Italy. Second: the next day I learned my son-in-law would soon die from cancer. Third: Less than one year later, our daughter died.

During the next months and years, I coupled my art skills with inner "soul work" to keep my balance. Some days, I would ask myself if my cross was going up or was it going down. I wanted my cross to have roots to hold onto - strength, memories and faith.
QUAKES HAPPEN.
WE MOURN AND GRIEVE.
WE PICK UP THE PIECES.
THERE IS RESTORATION AND REBIRTH.

Out of the past comes new life. From my experiences of yesterday comes growth and inspiration for today. It is my hope that my quilt, "Quake" will give inspiration to those living the human experience.
---
Queen Catherine-Pathfinder
© Alice Gant, Trumansburg, NY
Inspiration
When I imagine the organizing of women, children and old people for a hike from Montour Falls to Niagara Falls; the fear and hardships experienced, the heartbreak over the destruction of villages, crops and orchards, I find Catharine Montour a stellar example of "grace under pressure".
Queen Catharine Montour, wife of a Seneca chief became leader of her village, Catharinestown, at the death of her husband. She was a valued friend of the British settlers who were her neighbors. She spoke several languages and was an active peacemaking agent between the Senecas and the early Yankee trappers and farmers, often traveling to Philadelphia on these missions of peace. She was sixty years old when General Washington sent one third of the Continental Army to the Fingerlakes region to disrupt the Iroquois League by destroying their food supply and homes. Her village escaped to the British at Fort Niagara but many died there of cold and starvation.
After the Revolution Queen Catharine returned to the area of Catharinestown. The settlers built her a small cabin. Montour Falls, New York is named in her honor.
---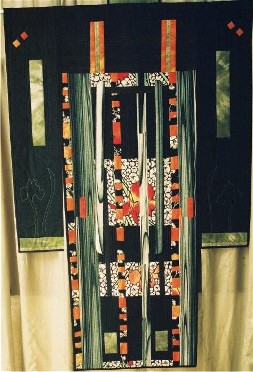 The Coming Dark
© June Underwood, Portland, OR
Grief
This quilt is a visual meditation on death. When my father died in 1990, I mourned his death at the Obon Spirit Festival at the Portland Japanese Garden. The participants in the Festival release candles into the Garden pond. The candles meander and shimmer over dark water until they slowly blink out. In 1996, during another Japanese Garden exhibit, my mother died. She loved iris, like the Japanese Garden. Her death felt to me like a shattering of those beloved flowers.
The kimono shape, with its Japanese resonances and its open-armed stance, seems linked to these irrevocable losses. Death, however, can be a final comforter, wrapping us in its mysterious dark. The kimono shape is larger than life. Its arms are ready for that final embrace. Darkness is essential to knowing light, just as death is essential in allowing earth's teeming life to continue.
We treasure life more because death comes to us all. Poet Wallace Stevens says "Death is the mother of beauty." It is that mixture of sorrow and acceptance and knowledge that "The Coming Dark" embodies.
---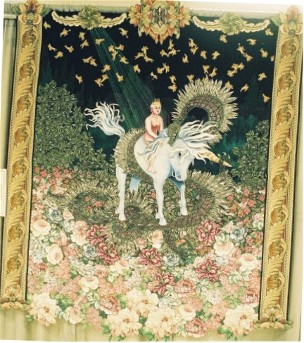 Shero
© Barbara Watler, Hollywood, FL
Healing
My niece, Jennifer, diagnosed with acute mylocytic leukemia at age 28, went to far away Seattle for a bone marrow transplant to save her life. I was chosen to be one of her care takers during the 90 day post transplant stay. Night times were always the most difficult for her. She often came to tell me she was going to ride off on her unicorn to get away from the pain. She had many guardian angels helping her through to recovery. Mariah Cary's song "Hero" gave her strength and courage to endure. Now many years post transplant, Jennifer's yearly lectures to the University of Miami medical students is positive reinforcement of her continuing recovery.
---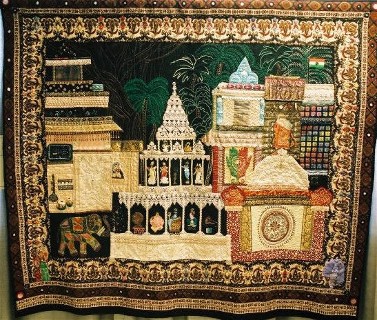 Glimpses of India: From Architecture to Zari
©Meena Schaldenbrand, Plymouth, MI
Spirituality
Spirituality is a huge factor in everyday life. The Indian Gods represented by this quilt include:
Brahma: Creator
Saraswati: Knowledge
Vishnu: Preserver
Laxmi: Beauty
Rama
Krishna
Natraj: Dance
Ganesh: Prosperity
Siva: Destroyer
Lingam-Yoni: male/female reunited