Congratulations to all of our 2015 artists.
We had more artworks than ever before. We wish we could have taken all the beautiful artwork. Thank you to everyone that submitted work to our exhibit. We were moved by your work and your stories.
To check the list of accepted artists, please click here.
To check the list of accepted artworks, please click here.
---
Bus Tours
We have planned two fun trips for our visitors. Signup now and join the fun.
Monday, July 13, Quilt Shop Hop. We will visit many local shops. $40
Friday, July 17, Visit Washington D.C, Museums showing textile exhibits. $75
---
Our Artist in Residence
Vikki Pignatelli will join us for the duration of the 2015 exhibit to be our Artist in Residence. She will provide a number of lectures and workshops. Sacred Threads will show case her spectacular sacred works. To learn more about Vikki's workshops and to signup, click here.
Sacred Threads Traveling Exhibit
Several locations have already enthusiastically agreed to host the 40 piece travel exhibit and other venues are still in the works. The dates and locations committed so far are:
September 2015 – Flint Festival of Quilts, Flint Presbyterian Church, Flint MI
November 2015 – Central Presbyterian Church, Atlanta GA
February 2016 – Fuller Theological Seminary, Pasadena CA
May 2016 – Good Shepherd Episcopal Church, Hayesville NC
If you or your venue is interested in receiving a portion of the 2015 exhibit, please indicate your interest by filling out the Traveling Exhibit Interest form.
Help Us Spread the Word About the Upcoming Exhibit.
If you would like to share postcards with your friends and family, please fill out this form. We will mail you postcards at no cost. Thank you!
---
Volunteers Needed and
Attend our Open House/Preview Night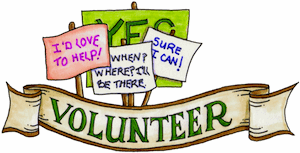 During the exhibition we depend on "white-glove" volunteers to be inside the exhibit and protect the artwork. Our volunteers get free admission AND can attend our Preview Night on July 9th.
Preview Night Open House. Tours on the 1/2 hour at 7:00 pm, 7:30 pm, 8:00 pm and 8:30 pm.
If you are interested in volunteering, please signup here.
Not Fade Away Conference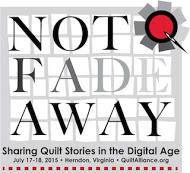 On July 17 - 18 the Alliance will conduct its second conference on the oral history of quilts Not Fade Away: Sharing Quilt Stories in the Digital Age in partnership with Sacred Threads.
The conference features a day-­‐long program on Saturday, July 18, and an optional Friday night program, July 17.
A two-­‐day pass costs $75 for QA members and $90 for non-­‐members (membership starts at $25/year). One-­‐day passes are available as are packages that include a Saturday evening fundraising dinner.
Friday evening's program includes a welcome mixer, a preview of the Sacred Threads exhibition, and an exciting night of video previews and special presentation of the work of Donna Sue Groves.
Saturday's program includes continental breakfast, lunch, and a full day of workshops, discussions and informal networking sessions on oral history and documentation techniques, challenges and successes. Registration includes one-­‐day admission to Sacred Threads, an international exhibition of quilts.
Seating for the conference is limited, so early registration is encouraged.
Conference details and online registration can be found on the QA website: http://www.allianceforamericanquilts.org/support/NFA2015tickets.php.
Discounts for groups of ten or more are available. Contact Debby Josephs for information at admin@quiltalliance.org or 828-­‐251-­‐7073.
Mark your calendars for 2015!
To see all our calendar events, visit our calendar page.
Exhibit Dates: July 10-July 26, 2015
Location: Floris United Methodist Church, Herndon, VA (outside Washington, D.C.)
Preview Night: July 9, 2015. A special viewing for our white glove volunteers. Signup to help.
Opening Reception: July 11, 2:00-4:00 pm, 2015
Dare to Dance Receptions: July 12 and July 19 at Quilter's Studio in Fairfax, VA.
Not Fade Away Conference with the Quilt Alliance: July 17-18, 2015
Healing Quilts in Medicine Reception: Arts and Healthcare, July 16, 2015 at Inova Fair Oaks Hospital
Workshops and Lectures by our Artist in Residence, Sacred Threads Founder, Vikki Pignatelli. Learn more.
---
If you would like to be added to our distribution list to be notified of the next call for entries or events,please signup here:
---
Do you shop at Amazon?
If so, please start your shopping at smile.amazon.com and choose Sacred Threads as your designated charity. Why not make all your purchases support a good cause!
---
Sacred Threads is an exhibition of quilts exploring themes of spirituality, joy, inspiration, peace/brotherhood, grief and healing. This biennial exhibition was established to provide a safe venue for quilters who see their work as a connection to the sacred and/or as an expression of their spiritual journey.
The objective is to create a dignified exhibition of artwork that touches on both spiritual and personal levels all those who view it. We want to share with others the experiences of quilters whose stories may be a source of healing and strength.
Entries to Sacred Thread Exhibitions are juried in by images for purposes of space and suitability of theme only. Works are not judged.
Sacred Threads is a 501(c)3 and appreciates the support of our donors. To make a tax deductible donation online, use your credit card or PayPal account.