Our 2017 Exhibit is Coming this Summer

We are excited about our 2017 exhibit!

Congratulations to all our exhibiting artists.
To see our 2017 Artist List, Click Here.
To see the 2017 Selected Artworks, Click Here.

Resources for Artists:

Dates of the Exhibit:

July 7, 2017 - July 23, 2017

Location:

Floris United Methodist Church
13600 Frying Pan Road
Herndon, VA 20171
(703) 793-0026 www.florisumc.org

Hours for the exhibit:

Mondays - Saturdays: 11am - 5pm Sundays: 1pm - 4pm

Admission:

$8.00 $5.00 for seniors (65+) and Children (7-12) Children 6 and under are free
We need White Glove volunteers!
Receive free admission to the exhibit and exclusive entrance to Preview Night, July 6, 2017, 7:00 pm.
White gloving is a wonderful way to contribute to our mission, get up-close and personal with the artwork, and meet some wonderful people.

Sign-up to White Glove Here.
Meet the Artists weekend: July 14-16, 2017
This weekend is for our entire Sacred Threads community. This includes our exhibiting artists, past and present, family, friends, art enthusiasts, Quilt Alliance members, and sponsors. If you appreciate Sacred Threads, and want to be a part of a special community, join us!
Registration is now open. You may register yourself and up to three guests on a single form.
Friday, July 14
Bus trip to Washington DC to see two textile related exhibits at the DAR Museum and the GWU Textile Musuem. $75 includes entrance fees and transporation. Lunch will be at a local DC restaurant and is not included. 9:00 am-4:00 pm. This is now full.
After Hours Private Gallery Viewing with light refreshments. ($5). 5:15-6:15pm
Meet-up Dinners. Have an intimate dinner group at local restaurants with weekend attendees and traveling friends (6:30pm). After signing up, we will put together groups of 8-10 with our Sacred Threads hosts. Pay for own dinner at local restaurants.
Saturday, July 15
Not Fade Away Conference with the Quilt Alliance. Box Lunch Included. ($35)

9:30-11:30 Capture Your Story—Demonstrations of the Go Tell It! project
11:30-12:15 Go Tell It! Video Screening—a Best of Reel curated by Emma Parker
12:15-1:00 Label Your Quilt—slide show of inspirational Quilt Labels.

Afternoon Reception to meet the artists and curators. 2:00-4:00 pm. Open to the public. No registration required.

Meet the Artists/Quilt Alliance Dinner at the Crowne Plaza Dulles Hotel. 5:30 pm. Buffet with Cash Bar. $56.00

Author/Journalist Meg Cox, our dinner keynote speaker, will talk about "Making Meaning: How Quilters Celebrate Life"
Sunday, July 16
---
We love Bus Tours and Groups and have special rates and benefits:
Morning tours begin at 11:00 am.
Afternoon tours begin at 2:00 pm. These times and flexible and can be adjusted for your group. These are guidelines to manage traffic flow of people through the exhibit.
Our tours are available for groups of 8 people or more and are available during the week (M-F).
Tickets prices are $4.50/person. (This is 10% discount from our lowest price.)
Group tickets are paid in-advance via PayPal or Check.
Your group will get a private talk before admission into the exhibit. One of our curators will meet your group, talk about the exhibit, and pass out the admission tickets.
Secure your spot and register your group today!
For more information or to make changes to your tour, contact Lisa Ellis at lisa@ellisquilts.com
---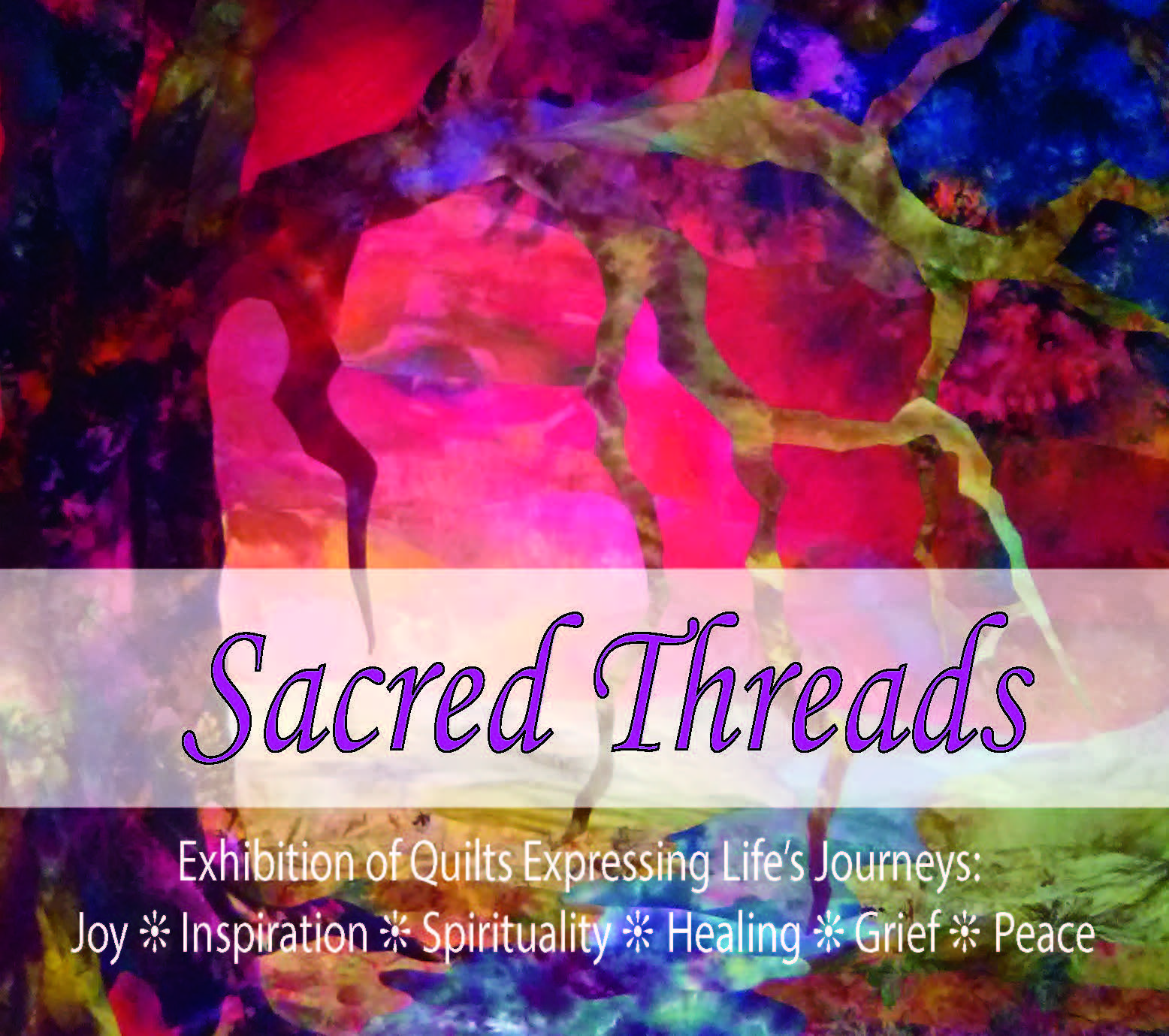 Help Us Spread the Word
We have new advertising postcards. Would you be willing to pass them out and send them to your friends and family? If so, please fill out this form and we will send you a stack. Thank you!!
We also have this lovely 81/2" x 11 " Flyer that you can download, email, print and share with friends.
Artwork by Barbara Allen.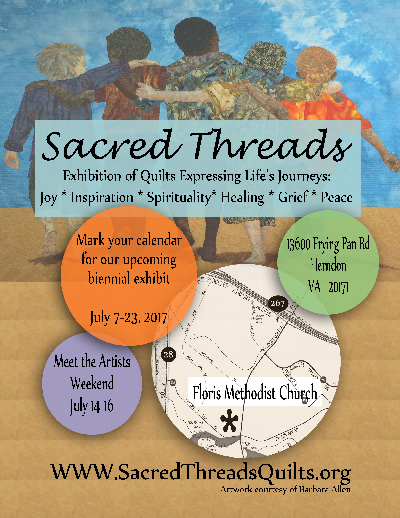 Open to Everyone - Hopes and Dreams Postcard Project
a special exhibit this summer in July 2017.
All Postcards entered will be displayed in our special exhibit. There is no jurying of the postcards sent in. Please consider adding your artwork to our special exhibit.
Learn More on our Postcard Page.
Sacred Threads Traveling 2017 Exhibit
The following venues are confirmed for our 2017 travel exhibition.
Flint Festival of Quilts, Flint MI - September 2017
Grace Episcopal Church, Gainesville GA - November 2017
Fuller Theological Seminary, Houston TX - November-December 2017 (Stories of Hope Quilts)
Southeastern Quilt & Textile Museum, Carrollton GA - April-June 2018
Good Shepard Episcopal Church, Hayesville NC - July 2018
Virginia Quilt Museum, Harrisonburg VA - September-December 2018
If you or your venue is interested in receiving a portion of the 2017 exhibit, please indicate your interest by filling out the Traveling Exhibit Interest form.
Thank you to eQuilter.com for being the sponsor of our traveling exhibit!
Signup to receive our Newsletter
Do you shop at Amazon?
If so, please start your shopping at smile.amazon.com and choose Sacred Threads as your designated charity. Why not make all your purchases support a good cause!
About Us
Sacred Threads is an exhibition of quilts exploring themes of spirituality, joy, inspiration, peace/brotherhood, grief and healing. This biennial exhibition was established to provide a safe venue for quilters who see their work as a connection to the sacred and/or as an expression of their spiritual journey.
The objective is to create a dignified exhibition of artwork that touches on both spiritual and personal levels all those who view it. We want to share with others the experiences of quilters whose stories may be a source of healing and strength.
Entries to Sacred Thread Exhibitions are juried in by images for purposes of space and suitability of theme only. Works are not judged.
Sacred Threads is a 501(c)3 and appreciates the support of our donors. To make a tax deductible donation online, use your credit card or PayPal account.
Thank you to our sponsors: