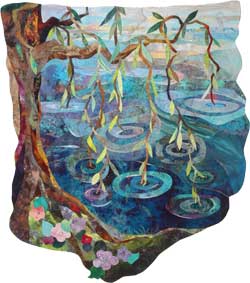 Exciting News for 2015
Vikki Pignatelli will join us for the duration of the 2015 exhibit to be our Artist in Residence. She will provide a number of lectures and workshops. Sacred Threads will show case her spectacular sacred works. To learn more about Vikki's workshops and to signup, click here.
We have a second call for entries for a special exhibit of liturgical pieces to be hung in the sanctuary at Floris United Methodist Church. FUMC is interested in purchasing artwork for permanent installation in the sanctuary. Please click here to read all about it.
On July 16, 2015 we will join up with local hospital INOVA Fair Oaks to have a Arts and Healing reception and special viewing of the Healing Quilts in Medicine installation. All are welcome.
Do you shop at Amazon?
If so, please start your shopping at smile.amazon.com and choose Sacred Threads as your designated charity. Why not make all your purchases support a good cause!
Our sister organization, Healing Quilts in Medicine, has an article in this month's Quilting Arts.
Our latest exhibit of quilts installed at the University of Michigan hospital are featured in the gallery section.
Sacred Threads Traveling Exhibit Future
Based on the success of traveling the 2013 exhibit to Omaha, NE, Savannah, GA, Denver, CO, Seattle, WA and Flint, MI we are exploring the interest for future venues following the 2015 exhibit. If you or your venue is interested in receiving a portion of the 2015 exhibit, please indicate your interest by filling out the Traveling Exhibit Interest form.
Help Us Spread the Word About the Upcoming Exhibit.
If you would like to share postcards with your friends and family, please fill out this form. We will mail you postcards at no cost. Thank you!
---
Mark your calendars for 2015!
Call for Entries: January 9 - March 9, 2015
Call for Entries (Special Liturgical): January 9 - April 9, 2015
Exhibit Dates: July 10-July 26, 2015
Location: Floris United Methodist Church, Herndon, VA (outside Washington, D.C.)
Opening Reception: July 11, 2:00-4:00 pm, 2015
Not Fade Away Conference with the Quilt Alliance: July 17-18, 2015
Healing Quilts in Medicine Reception: Arts and Healthcare, July 16, 2015 at Inova Fair Oaks Hospital
Workshops and Lectures by our Artist in Residence, Sacred Threads Founder, Vikki Pignatelli. Learn more.
If you would like to be added to our distribution list to be notified of the next call for entries or events,please signup here:
---
Experience the 2013 exhibit with these Treasures

Computer CD which includes photos of the artwork, artist statements and audio recordings from the artist. Compatible with Mac and PC.

$10.00 (plus $2.95 S&H)

---

Sacred Threads Enamel Pin

$5.00 (plus $1.00 S&H)

The Sacred Threads 2013 Exhibition Book (Softcover - 252 pages)

$29.99 (plus $5.00 S&H, $2.00/ea. for additional books)

NOTE: This is the Sacred Threads special price available while supplies last. Retail on Amazon.com is currently $41.61.