Planning Your Trip to DC
for Sacred Threads 2013
Dates of the Exhibit:

July 10, 2013 - July 28, 2013

Location:

Floris United Methodist Church, 13600 Frying Pan Road
Herndon, Va. 20171
(703) 793-0026 www.florisumc.org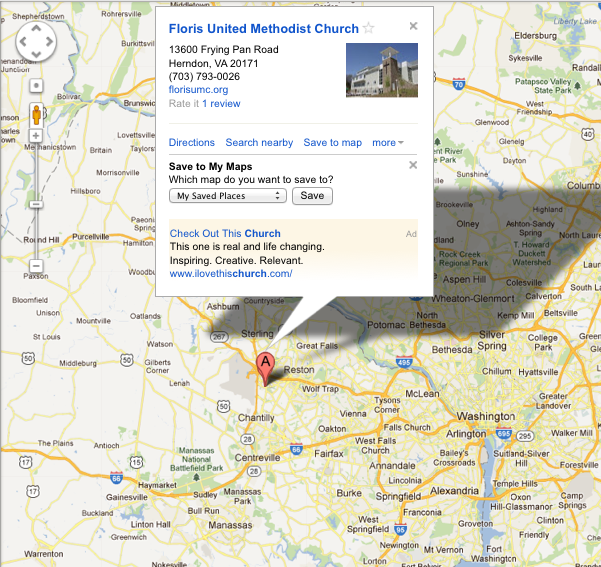 To browse this map click here: View Larger Map

Hotel

We have reserved a block of rooms at the Embassy Suites at Dulles Airport for Thursday, July 11- Sunday, July 14th.

The hotel address is 13341 Woodland Park Drive, Herndon, Virginia, 20171.

The rates are $99 for Two Double Beds; $79 for King/Single.
The rate includes a free breakfast and nightly Manager's Reception.

To make your reservation, call (703)464-0200 and identify that you are with Sacred Threads.

In order for us to get this rate, we need to use at least 10 rooms so please take advantage of this great price.

Here is a link to the hotel's website.

Bus Tours

We have organized two bus tours for Friday, July 12 to Baltimore to see the Art and Rembrance exhibit and on Tuesday, July 16 to Washington DC to visit three musuems including the Textile Museum. Click here to learn more.

Getting Around

Getting around the suberbs of Nothern Virginia, like most cities, requires a car. If you are staying in Washington DC and using the metro system, you can take a taxi from the Vienna metro to the Sacred Threads venue. The ride is approximately 20 minutes.

Attractions:

There is special exhibit in Baltimore called Art and Remembrance.

"Art and Remembrance is a non-profit, arts and educational organization that seeks to change people's hearts and minds by illuminating the experience of war, oppression, and injustice through the power and passion of personal narrative in art."

There are lots of wonderful things to do in Northen Virginia like visiting the Air and Space Museum, the Lorton Workshouse Arts Center, Sully Plantation and the Textile Musuem. So you can stay near the Sacred Threads venue, see the sights around the area and take the metro in to DC for a day of sightseeing.

Quilt Shops:

Jinny Beyer Studio (Great Falls), Webfabrics.net (Purcellville), G-Street Fabrics (Centreville), and The Quilt Patch (Fairfax).

Metro:

The closest metro (subway) station is Vienna on the orange line. To learn more about the Washington DC Metro system, click here.

Airports:

Dulles Airport (IAD) is just ten minutes away from the Sacred Threads venue.

Reagan National Airport (DCA) is approximately 40 minutes from the venue. Reagan is closer to downtown Washington DC and is accessible by metro.

Baltimore Washington International Airport (BWI) is approximately 80 minutes from the Sacred Threads venue.

Trains:

Washington DC Union Station is 40 minutes from the Sacred Threads venue.